Foresight Sustainable Forestry Company Plc
Guernsey Sustainable Finance Week Conference Review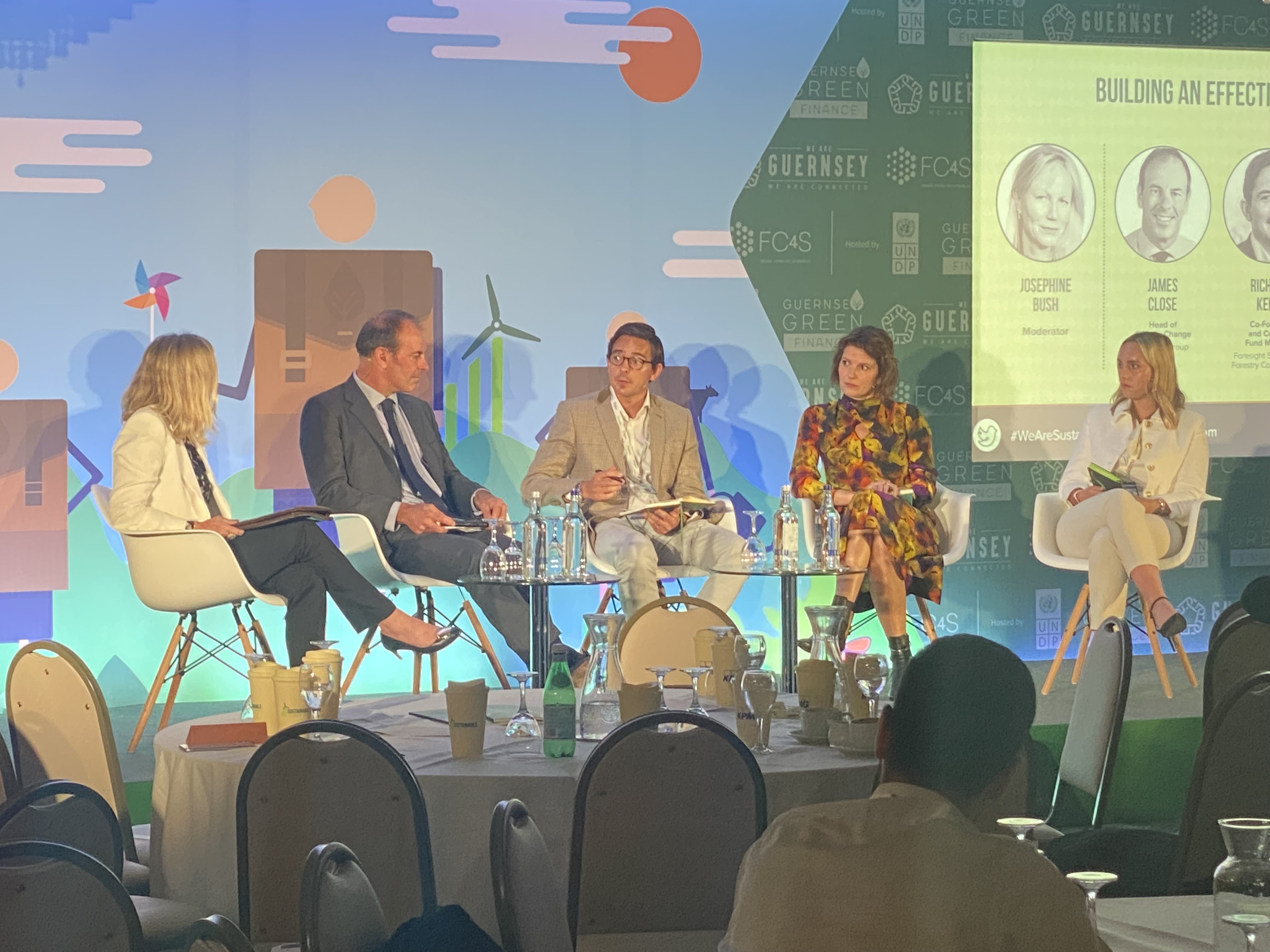 Richard Kelly, Co-Lead of Foresight Sustainable Forestry Company Plc, recently participated in a panel discussion at the Guernsey Sustainable Finance Week Conference. Below are his key takeaways from the event.
I was pleased to participate in last week's 'Building An Effective Carbon Market' panel as part of the Guernsey Sustainable Finance Week conference. The panel was chaired by Josephine Bush and I was joined by James Close (Head of Climate Change at Natwest Group), Marija Rompani (Director of Ethics and Sustainability at John Lewis Partnership) and Amy Smith (Sustainable Finance Manager at the London Stock Exchange Group).
Reflecting on the discussion, I have come away both optimistic about the accelerating scale of corporate commitment to address climate change, but also concerned for the many corporates who have made laudably ambitious climate pledges, but who have perhaps not fully appreciated the risks of an "offset later strategy". 
Over the last three years we have seen an explosion in the number of companies and asset managers making high quality carbon-related pledges. The number of companies who have set, or who have committed to set, Science Based Targets increased by 17 times since 2019. Despite the war in Europe, and the related energy and cost of living crisis, there are no signs that this phenomenal rate of climate commitments by corporates is slowing. 
Whilst pledges are taking off, however, it is clear that this activity is mostly a promise by companies to do more carbon offsetting in the future with, as yet, little tangible action today. The use of voluntary carbon credits by corporates is increasing but at a much slower rate than new commitments are being made. Over the last three years, the number of voluntary carbon credits used for offsetting has roughly doubled, versus the 17X increase in pledges. This suggests to me that there is a tidal wave of pent-up carbon credit demand coming down the track. My view is that this demand will build rapidly in and around 2030, which aligns with when many corporate climate pledges take effect. We could well see a very significant and sustained surge for carbon offsets from then on. 
What the discussion in Guernsey highlighted is that many corporates have not yet realised the potential liability they are creating when they make a climate pledge. By promising to decarbonise as much as possible first and to then offset from 2030 onwards, these corporates will be highly exposed - as never before - to voluntary carbon credit prices.  My fear is that many corporates believe that there will be an ample supply of credits available for them when they want to use them in 2030. However, it is clear to me that there is a real risk that there simply won't be enough credits available. 
The issuance of new credits is pretty static, as carbon prices have not yet reached a level required to unlock many otherwise sub-economic projects. At the current time, if no more credits were to be created, and retirements ran at the same pace, there is only c.4 years of supply left. When it comes to 2030, if corporates follow through on their pledges, there simply won't be enough credits to satisfy demand and prices will spike.  A 10X increase in carbon prices by 2030 is perfectly plausible as supply cannot easily be ramped up. Take trees, for instance, that account for most carbon credits currently created. For commercial plantations, it takes c.40 years for carbon to be fully sequestered. For non-commercial forests, the carbon profile extends over 100 years. We could plant all the trees we want to today, but only a very small proportion of carbon will have been sequestered by 2030 and be available for offsetting. In my view, we simply cannot ramp up voluntary carbon credit production fast enough if everyone waits until 2030.  
My key takeaway from this conference is that corporates really need to be thinking more about security of carbon credit supply now, before it's too late. I hope that I'm wrong but the supply of voluntary carbon credits could soon become a significant boardroom issue.  If companies really are serious about using offsets in the future, they should be sourcing those credits today. Those that don't face the risk of failing to source enough credits, or having to pay greatly inflated prices.