Foresight Capital Management
Insights
Site Visit – Amazon Logistics Facility in Littlebrook, East London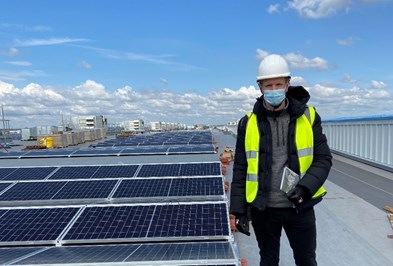 Tritax Big Box REIT is a holding in the FP Foresight Sustainable Real Estate Securities Fund.
Last week, warehouse and logistics facilities landlord Tritax Big Box REIT and Jefferies hosted an investor visit to the goliath Littlebrook logistics facility in East London. Littlebrook is a 2.3 million square feet asset (roughly 64 football pitches) on the banks of the River Thames and in close proximity to the M25 and QE2 bridge. The facility has been let to Amazon and is under construction at present. When completed this summer it will be the largest logistics facility in Europe. Importantly, the asset is an example of best in class sustainable real estate.
Given the proximity to London, the building will act as a key strategic asset for Amazon who has signed a 20-year, inflation-linked lease. The inflation component is attractive, with annual CPI escalators of between 1% and 3%. In terms of counterparties, there are few more attractive tenants to have on the rent roll than Amazon, who earlier this month set a record in the corporate bond market issuing a bond at just 0.1% more than the yield on the equivalent US Treasury debt.
During the tour, we were taken through the buildings' four floors and could see first-hand the vast array of robotics that are being installed within the facility. When complete, the building will be highly automated and employ cutting edge robotics and artificial intelligence, all part of the Amazon machine. These installations come at a significant cost to Amazon (estimated by Property Week to be in the region of £125m) and can be taken as a signal of intent for their longevity at Littlebrook. At its peak, the facility is expected to handle 450,000 parcels each day and employ up to 2,000 people.
The final part of the trip saw us visit the buildings' roof, where we could see the assets' sustainable credentials first-hand. Sustainability is a central part of the investment thesis for Tritax Big Box, who is a holding in the FP Foresight Sustainable Real Estate Securities Fund. In partnership with Amazon, sustainability has been integral to the design and construction process of the Littlebrook asset. The building boasts BREEAM excellent and EPC "A" ratings. The design process has led to the rollout of a gas-free heating system, energy-efficient lighting being deployed throughout and 40 EV charging points (Amazon aim to be net-zero by 2040, and an electric vehicle fleet will form part of this). As per the picture, there is a 3.5 MW photovoltaic solar array deployed on the rooftop, which is one of the UK's largest. This will power the building and its operations with a relatively significant level of clean energy in due course and is a great example of how leading sustainable real estate is progressing.
If you would like further information or to discuss an investment opportunity, please contact us on +44(0)20 3667 8199 or email sales@foresightgroup.eu.
Capital at risk. Past performance is not a reliable indicator of future results.